Topcon IS-3 Imaging Station
Topcon IS-3 Imaging Station sale, Accuracy 3", 2000m reflectorless EDM, Integrated Radio System 2.4 GHz + Wifi, RC-4 Long-Range radio and QuickLock, WT-100 Wi-fi
Topcon IS-3 Imaging Station sale, Accuracy 3", 2000m reflectorless EDM, Integrated Radio System 2.4 GHz + Wi-fi, RC-4 Long-Range radio and QuickLock, WT-100 Long-Range Wi-fi
Features
Scan with live images
2000m(6,500ft) reflectorless measurement
Remote image display by TopSURV and Image Master
Powerful X-TRAC 8 Auto-Tracking Technology
Two Digital Cameras - wide angle and 30X tele-zoon
The high-speed scan"Grid Scan"
---
The high speed measurement Grid Scan obtains 3D data by automatic scanning at a specified pitch within a specified area. Using Topcon's image analyzing software, 3D models can be created from the data.
Easy Scan Mode
---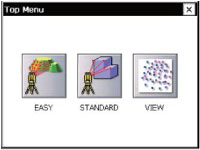 Easy Scan Mode is employed to maximize the simplicity of scanning workflow.
With a standardized procedure flow, scans can be completed with enhanced work efficiency.
"Feature Scan" to assist area measurement
---
This method automatically extracts features (corners) from the image of a specified area. Together with the Grid Scan, it greatly enhances performance on every job.
Image Master for IS
---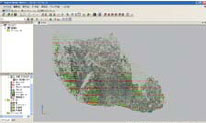 With Image Master, TIN images can be formed from 3D point cloud data. Using TIN data, it is possible to create texture-mapped 3D data, which are available for various usages including calculating surface area, calculating volume, and measuring distance.
Remote Operation of IS
---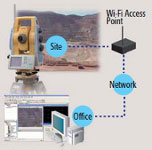 Image Master provides image and scan control of the IS through WLAN connection using the internal WLAN module. Remote operation is at your fingertips.
X-TRAC 8 - Advanced Auto-Tracking Technology
---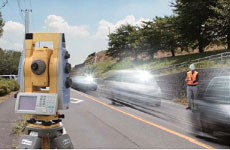 New X-TRAC 8 technology provides extremely quick and powerful auto-tracking capability even under the harshest environments, enabling dramatic increase of one-man survey efficiency.
Extremely powerful X-TRAC 8 technology provides:
1,000m long-range auto-tracking capability.
Accurate tracking even in most obstructed sites or with intensive sunlight.
RC-4 QuickLock remote option enables rapid prism search and lock for one-man survey
Increasing Communication Stability
---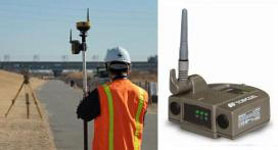 The WT-100 acts as an access point for the IS instrument and a field controller, increasing stability of data and image transmission. The IS can be operated from distance of up to 300m(1,000ft) using real-time digital camera images on a field controller's screen.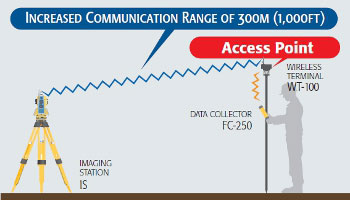 *The range of wireless transmission varies according to the environmental status such as barriers and obstacles. Direct the antenna of the WT-100 toward the IS for seamless communication.
Two Built-in Digital Cameras -Wide Angle and Tele-Zoom
---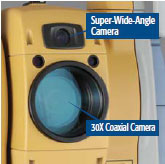 You can view the surrounding area and focus on the object with the wide angle camera and use the tele-zoom through 30x optical lens for the precise collimation. The clear tele-zoom image is displayed through the automatic focus adjustment. The images are stored in the internal memory as well as being displayed on the screen
One-man Survey System - QuickLock and stable WLAN connection
---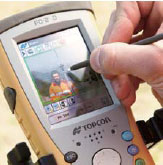 When combined with a data collector and RC-4 system, the IS is perfect for a one-man survey system. The IS represents the third generation of Topcon's world's first QuickLock technology. By just pressing a button, the RC-4 reacquires the IS again easily and quickly. With its stable WLAN connection, and smooth, fast live video operation, the IS ensures a stress-free, efficient survey.
Continuous Monitoring
---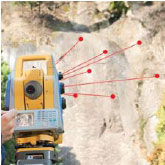 Whether done with mounted prisms or reflectorlessly, this monitoring function compliments the everyday use function of our robotic surveying.
"Touch Drive" to handle the instrument
---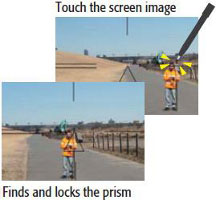 Touching the object on the image causes the instrument to rotate to the tapped object. The telescopic-view image provides zoom display with the same view angle of telescope. The Touch Drive also enables pinpoint measurement that allows the accurate collimation just like looking in the telescope.
Application Software
---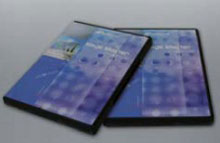 ImageMasterSuites(Optional)
Image Master Pro: Complete version of Image Master Suites.In addition to all the functions of Image Master Std, strong 3D Photogrammetry measurement by digital cameras is supported.
Image Master Std: Upgrade version of Image Master for IS. Survey tools like Contour Line, Cross Section, Area, Volume calculations are supported.
Related Product of the Topcon IS-3 Imaging Station