Topcon GLS-2000
Topcon GLS-2000 sale, ScanMaster software Installed.
Topcon GLS-2000 sale, ScanMaster software Installed.
Features
Speedy, precise scanning with variable range settings
"Precise Scan Technology II" providing high quality point cloud data with reduced noise
Full-dome scanning range
World's first "Direct Height Measurement"
Easy and accurate registration methods
Onboard software with intuitive and easy operation
Three models are selectable for different applications by the measuring ranges
---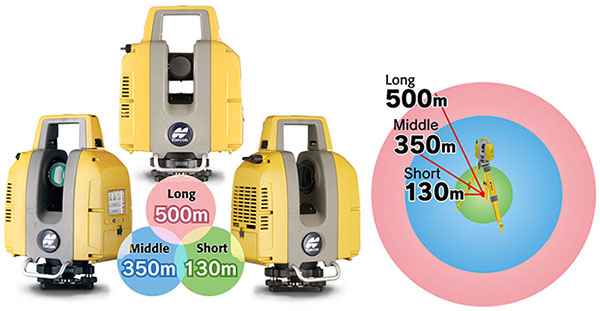 Distance measuring range is adequately selectable for applications from short distances, such as facility or interior measurement, to as-build measurement in civil engineering sites and for larger structures.
Realizing high-speed scanning in all work steps
---

With the GLS-2000, true high-speed laser scanning is realized. The GLS-2000 can provide stress-free measurement throughout an entire project with increased productivity and high efficiency.
TOF measurement with improved speed
---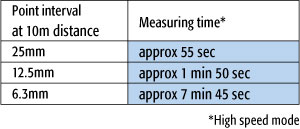 TOF measurement, with quality data with less noise, is further enhanced with ultra high-speed direct sampling technology, resulting in quick and accurate measurement.
Easy and intuitive on-board control software
---

With the on-board control software, the scanning can be simply started with one-touch of button. Together with color graphical display, scanning operation can be intuitively proceeded.
Dual camera
---

Equipped with dual camera, 170° wide angle camera (5 megapixels) and 8.9° narrow angle camera (5 megapixels) which is arranged in coaxial with the measuring axis. The wide-angle camera obtains images at high speed.
5 types of measurement mode supported
---
The GLS-2000 provides a wide range of measuring modes to accommodate different job site demands to achieve accurate and increased productivity regardless of site conditions.
First pulse/ last pulse selection
---
Depending on the location of the objects (as illustrated), a single emitted pulse from the instrument may be reflected partially by front objects (tree and net fence in the illustration) and the object in the back (house), and received by the instrument as multiple reflected beams. The GLS-2000 can recognize the "first pulse" and "last pulse" under such situation and offers first/last pulse selection to be taken as measuring result.
This technology is quite effective, especially on job sites where there are trees or fencing in front of the object to be measured.
Full-dome scanning
---

The instrument provides a 360° horizontal and 270° scanning measurement, capturing point clouds of objects that are difficult to measure, such as, building interiors, under bridge spans, towers, etc.
Selectable laser class (Class 3R/ Class 1)
---

Depending on the job site conditions, the measurement mode with different laser output power can be selected between Class 3R and Class 1 which provides eye safe measurement.
World's First Direct Instrument Height Measurement
---

The GLS-2000 has an exclusive function that accurately measures the instrument height with a one-touch operation, enabling accurate point cloud measurement.
Related Product of the Topcon GLS-2000