Artec Eva Colour
We sale Artec Eva, best price, package includes Artec Eva, 2x USB-cable, Power supply, Carrying bag, Hard case, Battery Pack and Warranty 1 Year
Sale Artec Eva, Brand new, Manufacture Warranty 1 Year
Package includes;
Artec Eva
2x USB-cable
Power supply
Carrying bag
Hard case
Battery Pack
Manufacture Warranty 1 Year
Artec Eva is the ideal choice for making a quick, textured and accurate 3D model of medium sized objects such as a human bust, an alloy wheel, or a motorcycle exhaust system. It scans quickly, in high resolution and vibrant color, which allows for almost unlimited applications.
Light, fast and versatile, it is the most popular Artec scanner and a market leader in handheld 3D scanners.
Make a fast, accurate 3D model in 3 stepsfor a perfect result
Scan the Object, Fust & Optimize, Texture
---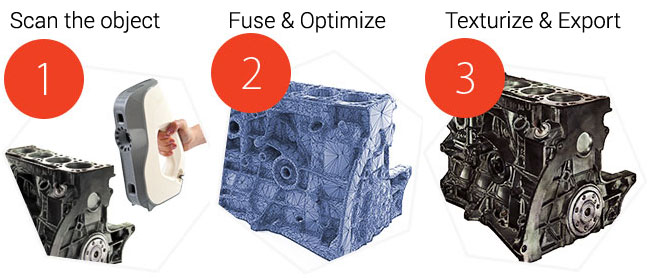 Artec 3D scanners & applications
---
Customizing, innovating and streamlining a wide range of different industries

Industrial design and manufacturing
Reverse engineering
Quality control
Rapid prototyping
Aerospace
Healthcare
Orthopedics
Prosthetics
Plastic surgery
Custom wheelchairs

Science and education
Research
Training
Online museums

Art and design
Heritage preservation
Architecture
CGI
Fashion
Fast scanning speed
16 fps
Capturing and simultaneously processing up to two million points per second, Eva scans dozen times faster than a laser scanner, while also providing high accuracy - up to 0.1mm.
High 3D resolution
0.5mm
Scan in brilliant color and high 3D resolution (up to 0.5mm)
Texture resolution
1.3 Mpx
Make full color 3D replicas of your object
Tablet and battery compatible for true portability
Link up the 0.85kg Artec Eva to a tablet and the Artec battery pack, which provides up to 6 hours of power, and you can scan practically anywhere, even in areas where there is no source of electricity.
Safe to use
Artec Eva is laser-free technology and is totally safe to use for scanning people, as well as inanimate objects.
No targets & calibration. Just point and shoot
No need for preparation, just plug in the scanner and point it around the object as you would with a video camera. Simple.
Bundling and easy integration
For scanning larger objects, or for creating an automatic scanning system, several Artec Evas can be bundled and synced together. You can also integrate the scanners into your own customized scanning solution using the free of charge Artec Scanning SDK.
Artec Eva Colour Hardware specifications
Ability to capture texture: Yes
3D resolution, up to 0.5 mm
3D point accuracy, up to 0.1 mm
3D accuracy over distance, up to 0.15% over 100 cm
Texture resolution: 1.3 mp
Colors: 24 bpp
Light source: flash bulb (no laser)
Working distance: 0.4 – 1 m
Linear field of view, HxW @ closest range: 214 mm x 148 mm
Linear field of view, HxW @ furthest range: 536 mm x 371 mm
Angular field of view, H W: 30 x 21°
Video frame rate, up to 16 fps
Exposure time: 0.0002 s
Data acquisition speed, up to 288,000 points/s
Dimensions, HxDxW: 261.5 x 158.2 x 63.7 mm
Weight: 0.85kg
Power consumption: 12V, 48W
Interface: 1x USB2.0
Calibration: No special equipment required
Artec Eva Colour Software Specifications
Multi core processing: Yes
Output formats: OBJ, PTX, STL, WRML, ASCII, AOP, CSV, PLY *
Processing capacity: 40'000'000 triangles/1GB RAM
Supported OS: Windows Vista and Windows 7 - 64 bit
Minimum computer requirements: Intel® Core™ Quad, 4Gb RAM, NVIDIA GeForce 9 (9xxx) series
Stereo Support Requirements: NVIDIA Quadro or better
Download
Related Product of the Artec Eva Colour