Trimble TX8 3D Scanner
Trimble TX8 3D laser scanner is a high performance laser scanner that rapidly measures angles and distances to create three dimensional views
Trimble TX8 3D Scanner Sale
Package sale includes;
Trimble TX8 3D Scanner
Transportation case
USB 3.0 Flash Drive 64GB TX
Cable, Power, Smart charger power cable
Power supply 12v
Tribrach with optical plummet
Lens cleaning fluid && Lens cleaning tissues
Trimble stylus lanyard 1
2x stylus & 1x tether packout assy
Pack x10 adhesive b & w checker target tx 5
Pack x2 screen protector 91.8x54.5mm tx 1
Tx8 quick start guide
The Trimble TX8 delivers the power and flexibility to tackle even the most demanding projects. Designed for performance the Trimble TX8 enables you to complete 3D laser scanning projects faster than ever.
1 million points per second
Typical high quality scan time of only 3 minutes
High accuracy maintained over entire range
340 meter range
IEC EN60825-1 class 1 eye safe laser
IP 54 environmental rating
Data from the Trimble TX8 loads directly into Trimble RealWorks and Trimble Scan Explorer software. The Trimble TX8 paired with Trimble RealWorks also provides efficient data flow into popular CAD programs.
With the Trimble TX8 you can capture more detailed datasets at high speed while maintaining high accuracy over the entire range of the scan.
Features
NEW-Improved efficiency and accuracy with new features like high precision scan mode capable of achieving 1mm accuracy, and single scan function for extended range scans.
High speed- with a typical scan time of only 3 minutes the Trimble TX8 allows you to capture more stations and complete projects faster than ever.
High quality data- never compromise on data quality. The Trimble TX8 quickly captures only high quality data over its entire range even in direct sunlight. This means less setups to capture a complete project.
Long range- with a maximum range of 340 meters the Trimble TX8 gives you more flexibility and project opportunities. It's like having two scanners in one.
Intuitive and easy to operate- the intuitive onboard software of the Trimble TX8 makes it easy to learn and get up to speed capturing data. Reduce startup time and increase your confidence that 3D scanning can be successfully incorporated.
Key Features:
Increase field productivity with the fastest, high resolution scans on the market
Confidence in data accuracy, clarity and richness
True performance in real world environments
Intuitive and easy to operate
Data integrates with Trimble survey instruments and Trimble Realworks software
Trimble TX8 Technical Spesification
---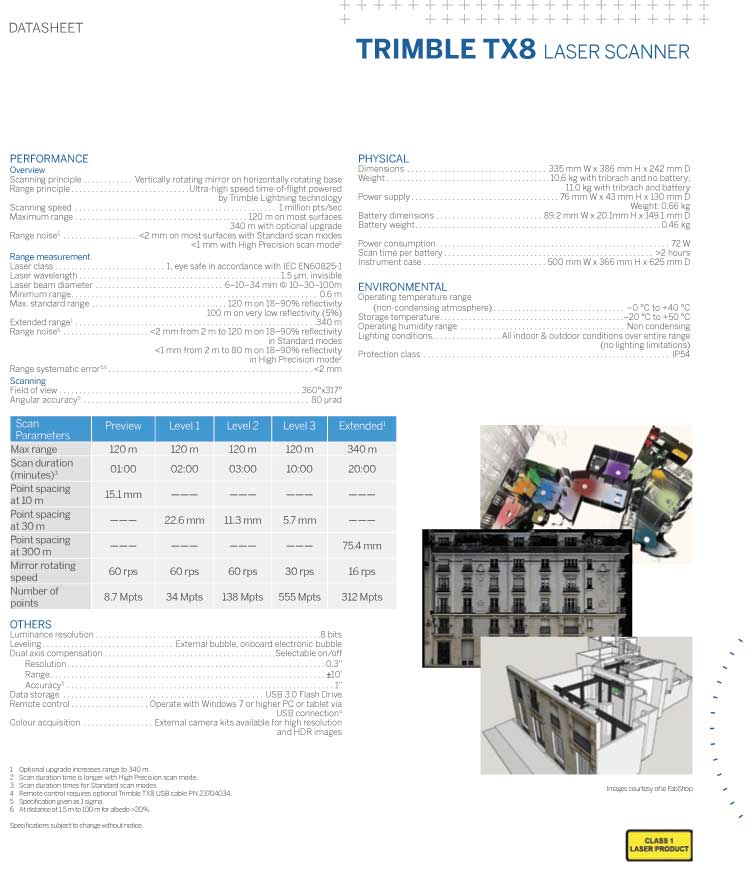 Related Product of the Trimble TX8 3D Scanner