Trimble S7 Total Station
Trimble S7 Total Station sale, 1" Angle Accuracy, 2" Angle Accuracy, 3" Trimble Angle Accuracy, 5" Trimble Angle Accuracy
Trimble S7 Total Station sale
Trimble Angle Accuracy
1" Angle Accuracy: $14,100
2" Angle Accuracy: $12,100
3" Trimble Angle Accuracy: $10,100
5" Trimble Angle Accuracy: $9,100
Servo Control: Autolock or Robotic, more info please quote
The Trimble S7 Total Station combines scanning, imaging and surveying into one powerful solution. Now you only need one instrument on the job site to perform all your data capture. Create 3D models, high accuracy visual site documentation, point clouds, and more using the Trimble S7, Trimble Access field software and Trimble Business Center office software.
Trimble Angle Accuracy: 1", 2", 3" and 5"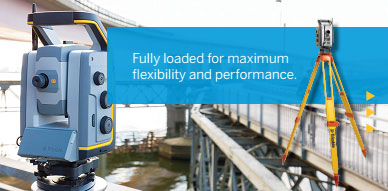 Features
Surveying, imaging and 3D scanning in one powerful solution
Improved Trimble VISION technology for video robotic control, scene documentation and photogrametric measurements
Trimble DR Plus for long range and superior accuracy
Locate2Protect real-time equipment monitoring and Trimble InSphere equipment management
Complete field-to-office solution for quick data capture and processing
Seamless integration with the Trimble V10 Imaging Rover and GNSS receivers
Fully Loaded for Maxmum Flexibility And Perfomance
---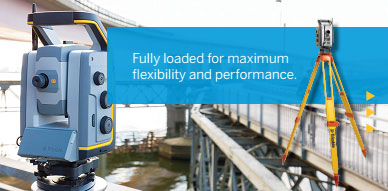 Imagine needing just one total station on your job site to perform all of the data capture. Imagine just one powerfully equipped total station to handle scanning, imaging and surveying, to create 3D models, to process highly accurate visual site documentation and point clouds, and to do much more. That total station is the Trimble S7.
Work Faster with Integrated Scanning and VISION
With Trimble SureScan you collect and process data faster by focusing on collecting the right points, not just more points. SureScan patented technology maintains a userdefined, equal density of points so you won't capture too many points at short distances or too few points at longer distances. The S7 is equipped with Trimble VISION technology. Use it to direct your survey through live video images on the controller. Back in the office, you can use your Trimble VISION data for measurements, or to process 360-degree panoramas and high dynamic range (HDR) images for even clearer deliverables.
Enhance your Accuracy with Trimble
DR Plus The S7, equipped with our DR Plus EDM, delivers enhanced scanner performance with fewer instrument setups. Our DR Plus range measurement feature also dramatically extends the range of Direct Reflex measurement without a prism. Trimble DR Plus makes for quick and easy measurements without compromising accuracy
The Ultimate Total Station
The Trimble S7 is a powerful total station with all of the features and tools you need to maximize efficiency in the field and in the office. Other technologies you'll find standard:
MagDrive, for exceptional speed and accuracy, reduce wear and tear, and smooth, silent operation
FineLock,which detects targets without interference from surrounding prisms, ensuring target lock over long distances, and eliminating errors caused by interference
SurePoint, ensures precise pointing and measuring by staying on target through virtually any situation, from windy weather to vibrations
Locate2Protect technology and InSphere
Equipment Manager Industry-leading field and office software for fast data collection and processing no matter the Trimble instrument
Increase Productivity with Trimble Surescan
Trimble SureScan technology is a true productivitybooster that saves you time in the field and in the office. It allows you to easily and quickly define a single framed area and set a consistent resolution. This means cleaner, more usable initial data sets, which minimizes the amount of point data and the number of setups required while facilitating office data processing.With SureScan, you can efficiently capture everything you need to create digital terrain models (DTMs) and volume calculations. Plus you can perform topographic measurements faster than traditional surveying methods
Related Product of the Trimble S7 Total Station