Used Kreon Ace 7-axis Arm Scanner
For sale Kreon Ace 7-axis Arm with Skyline Eyes Scanner, Like new, Excellent Condition, manufacture year 2018
For sale Kreon Ace 7-axis Arm with Skyline Eyes Scanner, still like new in excellent perfect working order condition, Manufacture year 2018
Kreon Ace Package includes:
ARM:
1x Measuring Arm Kreon Ace
1x Transport suitcase for Ace
1x Dustcover for Ace Arm
1x Base plate with Brunson Attachment
1x 18V power supply
1x Power Cable IEC C7 - Europlug
1x USB cable 3 m
1x Accessories suitcase
1x Set of Screws
1x Hexagonal key 5 mm
1x Flat key 12 mm
1x PAA1 with 6 mm probe
1x S10 Multiwire key
1x Calibration sphere with support
1x Stylus Tool
1x USB Key box
1x USB License dongle
1x Kreon USB key
SCANNER:
Kreon Skyline (EYES)
Suitcase for Skyline
Ethernet cable for Ace arm
Calibration sphere 25 mm
Magnetic holder for M8 sphere
USB key box
USB license Dongle
Kreon USB key
Certification documents kit
Quick start guide
*Tripod also included in this offer.
KREON ACE arm 7 axes | All-in-one solution | Integration of 3D laser scanner | Portable measuring arm
Kreon Ace measuring arm is the perfect system for contact and non-contact 3D measurements, on top of that it is particularly easy to use. The innovative styling of Kreon Ace 7 axes arm covers an innovative technology and high-level material. The arm is temperature regulated and is capable to use either in metrological department or in the workshop. For probing applications, the arm can be operated without power supply due to its integrated battery and wireless connection. Current Kreon 3D laser scanners (Zephyr II, Zephyr II Blue and Solano, Solano Blue) are integrated with the Kreon Ace arm. Scanners and probes are plug-and-play and can be used with a lot of application software (Metrolog, Polyworks, Geomagic, PowerInspect, Capps, etc.)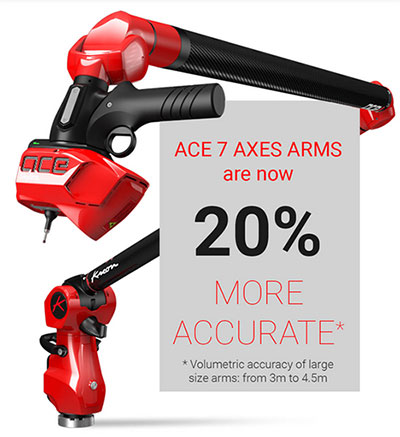 Kreon has enhanced the volumetric accuracy of Ace large size measuring arms from 3m to 4.5m by 20%. Large size measuring arms are more accurate.
Kreon technical team has implemented its know-how for increasing the measuring arms accuracy, especially working on the 7th axis with this aim in mind. As a result Kreon large size portable measuring arms, from 3m to 4.5m, are now much more accurate. For instance, the volumetric accuracy of the 4.5 m Ace arm has been improved from 0.125mm to 0.089mm. Big parts measurements are now more precise to meet the exigent needs of the industries such as automotive, aeronautics, etc. …as well as scanning arms.
Due to these improvements, Kreon scanning arms become even more efficient. Indeed, the Ace packages, that already provide very accurate measurements, achieve now the highest accuracy level in the market. Recently launched Ace Skyline package is the most precise scanning arm in Kreon's range, offering 0.061mm scanning performance for 3 meters version.
Ace Skyline Scanning Arm
Ace measuring arm with Skyline 3D scanners, a new scanning experience. Ace Skyline combines the Ace measuring arm and the Skyline 3D scanner, providing a high performance system for contact and non contact 3D measurements. Accurate, fast, flexible…it replies to all your requirements and can scan the most challenging parts. The speed of the Skyline 3D scanner allows to digitize any part in a blink of an eye. Its accuracy detects the smallest details of the most complex parts. Being integrated on Ace
arm, the Skyline scanner is an ergonomic system, perfect for scanning without efforts.
Advanced scanning speed
Large laser line and high frequency decrease the number of scan passes and make the scanner movement faster to acquire dense point clouds in a blink of an eye.
SAVE MORE TIME: with a reliable, performant and easy to use system, at an incredible acquisition speed.
SCAN ANY PART: dark or clear, dull or shiny, big or small or all at once. Its freedom of movement enables an access to internal or back side of difficult or closed volumes.
SCAN ANYWHERE: in a metrology room, a workshop, on a machine tool or even outside, due to temperature compensation
CONTROL WITH CONFIDENCE: the freeform parts with the extreme accuracy of Skyline scanner and the geometrical elements with the probe integrated under the scanner.
ADVANCED SCANNING SPEED 200mm* laser line
Decreased number of scan passes on the part given to max 200 mm laser line*
Faster movement of the 3D scanner assured by the increased frequency
Acquisition speed of 600,000 points/sec, allowing to quickly get the dense point cloud*
Ergonomic "push and pull" handle, providing a fabulous scanning efficiency
HIGH RESOLUTION 25μm* AND HIGH ACCURACY 9μm*
2,000 points per laser line for a high resolution level*
Optimal accuracy, even on shiny reflective surfaces, due to blue laser fineness
Temperature compensation of the 3D scanner to avoid pre-heating and to maintain a constant accuracy
EASE OF USE
Scan longer owing to the 3D scanner lightness (weight less than 400 g)
Reach and scan the hard-to-access zones of each part, thanks to compactness
Visualize precisely the ideal scanning distance with the LED indicator
Remove the scanner rapidly and without any tool to accelerate the probe mounting
Related Product of the Used Kreon Ace 7-axis Arm Scanner