Used GeoSLAM ZEB-REVO 3D Laser Scanner
Sale GeoSLAM ZEB-REVO 3D Laser Scanner. 1 year old, pristine condition, low hours used, Geoslam Hub software included
GeoSLAM ZEB-REVO 3D Laser Scanner sale, 1 Year old, pristine condition, low hours used, Geoslam Hub software included! Calibrated, Set up ready to working condition and works flawlessly.
GeoSLAM ZEB-REVO for sale includes:
GeoSLAM ZEB-REVO 3D Portable Scanner
GeoSLAM ZEB-DL2600 Data Logger
8GB Pen Drive
Mains Cable
USB Cable
LowPro Flipside 200 Backpack
Quick Start Guide
User Manual
Backpack
GeoSLAM ZEB-REVO
The ZEB-REVO Solution GeoSLAM.com "Go-anywhere" 3D mobile mapping technology. Handheld, lightweight and easy to use scanners that allow you to rapidly build highly accurate 3D models within minutes, while on the move. The complete solution that allows you to start mapping the world around you today.
Lightweight, handheld laser scanners which are highly mobile, simple to operate and can be used by anyone. Our versatile technology is adaptable to any environment, especially complex and enclosed spaces, without the need for GNSS. The 100Hz surveying system includes scanner, data logger and accessories and enables you to accurately scan and capture data, while on the move
User-friendly desktop software which turns data into real-time 3D information, delivering rapid and accurate results within minutes. With unlimited point cloud processing software and local registration, you can check your survey data instantly on site and export files in a range of industry standard formats.
Support & maintenance options depending on what your business needs – including helpdesk, issue analysis and resolution, product enhancement and release management.
Data capture with the ZEB_REVO is as simple as 'walk and scan'. Map a 3-storey building in just 30 minutes to an accuracy level of ±15mm or scan, view and export up to 10,000 m2 in under 1 hour. Join our customers as they measure building plans 10 times faster than traditional tools, deliver BIM models earlier than expected and experience project cost savings of up to two thirds. And with this solution, customers can expand their range and scope of services by taking on projects that would otherwise have proved too difficult or time consuming using traditional survey techniques.
GeoSLAM ZEB-REVO Solution
Our customers are more profitable, more efficient and more competitive with our 3D mobile mapping solutions. Here are the benefits you can experience by choosing the ZEB-REVO solution:
"Go-anywhere" 3D mobile mapping – our versatile technology is adaptable to any environment in all industries, especially complex and enclosed spaces, without the need for GNSS. Flexible mounts and deployment options means the ZEB-REVO can be handheld, drone or robot mounted or even attached to a pole or cable. Weighing only 3.5kg, the handheld device can be used to quickly scan multi-level environments, and with an IP64 rating, it can withstand hazardous and harsh environments.

Rapid scanning time – within minutes anyone can be operating the ZEB-REVO, and our intelligent software (which uses the most established and robust SLAM mapping algorithm in the industry) can map a 3-storey building in just 30 minutes to an accuracy level of ±15mm, or map a 10,000 m2 (105,000 sq. ft.) depot in under an hour. Walk through your target survey environment to record more than 43,000 measurement pts/sec, and from scan to full 3D BIM model in under an hour!
Saving you time and money – you can capture and model complex data up to 10 times faster, enabling you to successfully complete projects in minimum time with little or no disruption at the project site. With proven ability to scan faster than traditional surveys or static terrestrial laser scanning, you can reduce scanning time, in many cases by half. Customers often find that the ZEB-REVO is highly complementary to their existing scanning hardware, as the combination allows indoor handheld scanning to take place at the same time as the outdoor scanning, saving project time and money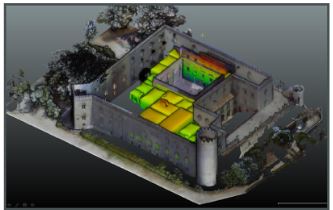 Core Industries
Surveying
Engineering
Forestry
Facilities & Asset Management
Mining
Technical Specifications
SYSTEM FEATURES
DATA
Maximum Range
30m*
Data Storage Capacity
55GB
Data Acquisition Rate
43,200 points/sec
Raw data file size
~10MB for every 1 min scanning
Resolution
0.625° horizontal,
1.8° vertical
Processed data file size
~8MB for every 1 min scanning
Angular FOV
270° x 360°
Default output file format
Multiple formats including .LAS, PLY and .e57
Supply Voltage
2VDC ± 10%
Compatibility
GeoSLAM data is compatible with all major CAD software packages
Supply Current
Max 1.5A, normal 1.0A
Power Consumption
Less than 20W
OperatingTemperature
0° to +50°
ACCURACY
Operating Humidity
<85% RH
Relative Accuracy
1 – 3cm
Mounting Operation
Removable handle provided, can also be pole or vehicle mounted
Absolute Position Accuracy
3 – 30cm (10 mins scanning, 1 loop)
PROCESSING SOFTWARE
SENSOR
Specify multiple output formats enabling easy export to 3rd party software
Laser Safety Class
Class 1 Eye Safe
Integrated 2D and 3D viewer for data visualisation and review
Laser Wavelength
905nm
Ability to align and merge multiple GeoSLAM datasets
Scanner Line Speed
100Hz
Automatically synchronise imagery data captured by ZEB-CAM
Scanner Resolution
0.625° horizontal
Refine data with multiple processing options including process in reverse, end early and place recognition
Rotation Speed
0.5Hz
Access to GeoSLAM cloud for online support and dataset flagging
BATTERY
CASING
Battery Type
Lithium Polymer (LiPo)
IP Rating
P64 (dust-tight, splashproof
Capacity
8Ah +/- 5%
Cable Connectors
LEMO multi pin
Nominal Voltage
12V
Weight (scanner)
1.0kg
Battery Life
4 hours (continuous use)
Weight (total system)
4.1kG
Charge Time
8 – 12 hours
Dimensions (scanner)
86 x 113 x 287mm
Battery Lifespan
300+ cycles
Dimensions (backpack)
220 x 180 x 470mm
Chargers Supplied
UK, USA, EU & AUS
Weight
600g
ZEB-CAM Accessory
Camera Type: GoPro Session
Mode: Video
Video Resolution: 1440p
Frames per Second: 30
Image Resolution 1920 x 1440
Field of View: Ultrawide (~120°x 90°)
Logging Medium: Internal SD card
Power Supply: Internal Battery
Battery Life: 2 hours continuous use
Image Syncing: Optical flow using integrated inertial sensoR
Connection: 1.5m cable with multi pin LEMO connector
Software: Requires GeoSLAM Desktop V3 or later
Related Product of the Used GeoSLAM ZEB-REVO 3D Laser Scanner