Used API Radian Laser Tracker
Used API Radian Laser Tracker for sale. Very lightly used still like new and ready to working condition, Software included, Fresh Calibration, 1 Year Manufacturer Warranty
Used API Radian Laser Tracker for sale, very lightly used still like new and ready to working condition. Software included! Fresh Calibration and 1 year manufacturer warranty!
This API Radian Laser Tracker has been tested, checked, and calibrated by authorized to insure the reliability and accuracy with API working standards
API Radian Laser Tracker Includes:
Stand, Active target kit Laptop, booklets, accessories, etc.
Optional: Verisurf Perpetual License
Consist of: CAD, Automate, Build, Analysis and Reverse software modules (Mold CATIA, MoldPLus)
API Radian Laser Tracker
Smarter. Faster. More Accurate. More Flexible. Our exclusive on-the-shaft mounting of the laser head eliminates bending mirrors and thermally induced errors, and increases accuracy and stability. RADIAN Laser Trackers and accessories are a highly flexible, portable coordinate measuring solution with applications across all industries. RADIAN excels at all dimensional metrology tasks including dynamic precision measurement, hidden-point probing, high-definition surface scanning and feature extraction for automation and machine control.
Radian includes all the characteristics of API's advanced laser tracking technology:
Highest precision and accuracy
Largest working volume
Lowest cost of ownership
Still the Smallest IFM/ADM laser tracker
Dynamic continuous-point measuring
New Efficiencies Radian Advances the Technology and Efficiency of Laser Trackers.
Radian Includes:
Multiple SMR identification
Mounting versatility: mount sideways, upside down, underneath, or directly on your part
Complete suite of advanced targets and accessories
INNOVO Includes New On-Board Intelligence:
Activity Advisor alerts you of the Radian laser tracker's warm up status, key operating and environmental conditions, and more
Advanced Self-Diagnostics detects setup and workplace irregularities before they become critical
ADM-Maxx ensures more accurate measurements over longer distances
INNOVO Technology ensures that Radian is ready to measure when you are.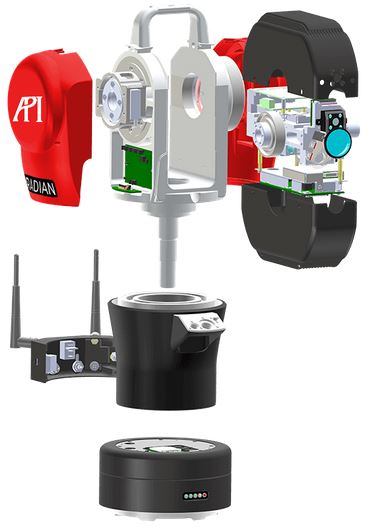 System Performance
Range Azimuth: ± 320°
Range Elevation: + 79° / -59°
Angular Resolution: ± 0.018 arcsec
Angular Accuracy: 3.5 μm/m
Resolution: 0.1 μm
Internal Level Accuracy: ± 2 arcsec
Laser
HeNe Laser (IFM): Classe II (eye safe)
Resolution: 0.08 μm
Accuracy: ± 0.5 lilim
IR Laser (ADM-Maxx): Classe I (eye safe)
Resolution: 0.1 μm
Lock-on Accuracy: ± 10 μm or 1 lilim
Dimensions
Tracker Weight: 9 kg
Tracker Size: 177 mm x 177 mm x 355 mm
Controller Weight: 3.2 kg
Controller Size: 110 mm x 160 mm x 310 mm
Range of Measurements
Linear Range (Diameter): 40 m (131 ft)
Accuracy
Static Measurement (IFM): ± 10 μm or 5 ppm (2 sigma)
I-Vision
Working Range: 0 - 25 m (typical)
Field of Vision: 30° (diagonal)
Applications includes:
Alignment
GD&T
Calibration
Part Measurement
Jigs, Fixture & Tooling Inspection
Reverse Engineering
Robotics
Adaptive Control
Related Product of the Used API Radian Laser Tracker