Creaform HandyPROBE CMM C-Track 780 Dual-Camera Sensor
For sale Creaform HandyPROBE CMM C-Track 780 Dual-Camera Sensor. All gears has been shop tested and calibrated to insure it is reliability and accuracy with Creaform working standards
For sale Creaform HandyPROBE CMM C-Track 780 Dual-Camera Sensor. All gears has been shop tested and calibrated to be to insure it is reliability and accuracy with Creaform working standards
Package includes;
HandyPROBE probing stylus
Sensor C-Track dual-camera 780
45° shaft (Ø8mm - Height 12mm Ø6) metal reflectors (4)
Magnetic supports for reflector Ø6 mm (4)
L20 sphere 3 ruby stylus M4 (1)
M4 stylus tool (to install the stylus onto adapter)
Controller (screen and keyboard included) integrated license VX Elements
1 cd for installing software VX Elements + USB key with manual and training
1 cable firewire controller <> sensor
Probe adapter, fixed and mobile part (1)
Calibration bar
Carrying case
Tripod
Universal power supply
CREAFORM C-TRACK 780
The HandyPROBE portable coordinate measuring machine (CMM) of 1st generation was an arm-free probing system that delivered high accuracy measurements when used with the C-Track dual-camera sensor. The HandyPROBE arm-free portable probing system and the C-Track dual-camera sensor form a unique duo that generates high-accuracy measurements with an accuracyof up to 22 μm and also increases the reliability and speed of the measurement process. This portable CCM was designed and optimized to operate in "real life" shop floor conditions. Compared to other coordinate measurement technologies, the HandyPROBE 100% portable CMM allows total freedom of movement for significantly increased productivity and quality!
FASTER AND EASIER MEASUREMENT: Handheld and arm-free. wireless data transmission process allows the user to move freely around the part
LIGHTWEIGHT: weighs 450 g
TRUaccuracyTM TECHNOLOGY: Highly-accurate measurements, no matter the measurement environment (instabilit y, vibrations, thermal variations, etc.) or operator skills
USER-FRIENDLY: Intuitive system with a very short learning curve 5-minute installation
COMPATIBLE WITH ALL MAJOR SOFTWARE: Instant integration into your qc process
GREATER, EXTENDABLE MEASUREMENT VOLUME: Can be easily and dynamically extended without any loss of accuracy and without any conventional leapfrog
AUTOMATIC ALIGNMENT: The use of optical reflectors allows probing of many identical parts in rapid succession, no need for the operator tore-align data after moving the part or the c-track, resulting in less set-up and error accumulation measurement of parts in production without having to align every part
TRULY PORTABLE: Unequalled precision, mobilit y and flexibilit y - no matter where (lab, factory, off-site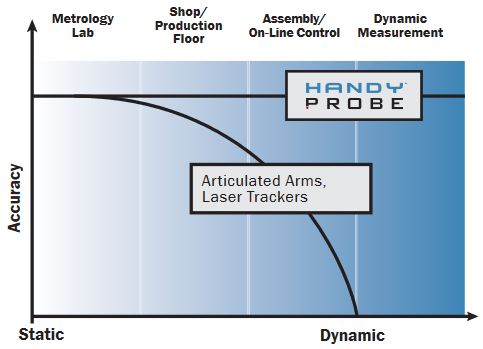 TRUaccuracy TECHNOLOGY
Higher Measurement Accuracy. Creaform's TRUaccuracy technology ensures highly-accurate measurements, regardless of the measurement environment (instability, vibrations, thermalvariations, etc.) or operator skills. With the dynamic referencing mode of the C-Track, the coordinate system can be literally "locked" onto the part(s) being measured, thus maintaining part alignment during the entire 3D scanning process
With the automatic alignment function, manual operation is no longer needed during the alignment phase and root cause errors are drastically reduced.
With the fast user calibration process using a certified gauge, the HandyPROBE delivers constant accuracy during its entire life cycle.
With the continuous monitoring of parameters (temperature, accuracy, etc.), device accuracy is maintained throughout entire operation.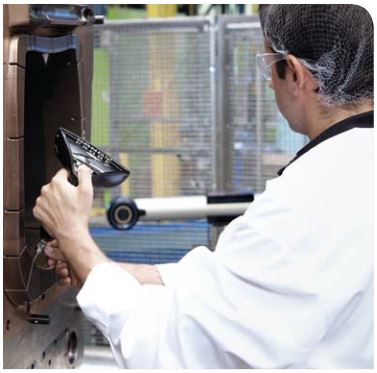 APPLICATIONS
The HandyPROBE is a powerful arm-free measurement system. Data acquired by this system may be processed in real-time using any major inspection and
metrology software. This highly-accurate device can carry out the following tasks:
Inspection
Part-to-CAD analysis
First article inspection
Supplier quality inspection
Conformity assessment of 3D models against original parts/production tooling
Conformity assessment of manufactured parts against originals
Alignment
Tooling certification
Multi-shot measurement (up to 30 points/sec.)
When used with a MetraSCAN 3D optical CMM scanner, allows full free form inspection and generates high density colour maps
Reverse Engineering
Reverse engineering of geometrical entities (spheres, cylinders, planes)
When used with a MetraSCAN 3D optical CMM scanner, allows faster and more accurate reverse engineering of mixed parts (geometrical and free form)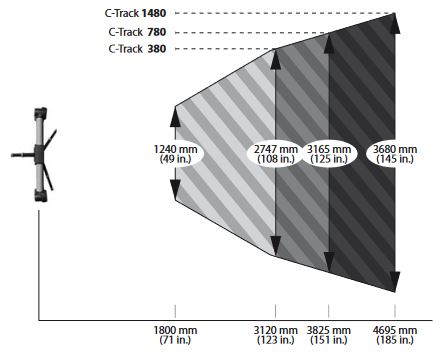 THE C-Track TM DUAL-CAMERA SENSORS
The C-Track dual-camera sensors are fitted with high quality optics and special lighting, enabling them to measure all reflectors within their operating space. In addition to tracking the whole system's reference model, the C-Track ensure the exact localization of the HandyPROBE, perform continuous image acquisition and transmission, lighting of reflectors, management of the exchanges with the computer and storage of the sensor parameters
VXelements
The HandyPROBE arm-free portable probing system comes with VXelements, the all-in-one 3D data acquisition software that powers its entire fleet of probing and measurement technologies. The software gathers all the essential elements and tools into a uniform, user-friendly and intuitive working environment. The VXprobe module allows users to interact with data acquired using a HandyPROBE and share it with any other VXelements component or third-party software.
HandyPROBE TECHNICAL SPECIFICATIONS
C-Track 380
C-Track 780
C-Track 1480
ACCURACY (1)
Up to 0.022 mm (0.0009 in.)
Up to 0.025 mm (0.0010 in.)
Up to 0.030 mm (0.0012 in.)
SINGLE POINT REPEATABILITY (3)
3.80 m3 (135 ft3)
0.045 mm (2) (0.0018 in.)
0.050 mm (5) (0.0020 in.)
0.055 mm (5) (0.0022 in.)
7.80 m3 (275 ft3)
n/a
0.055 mm (2) (0.0022 in.)
0.065 mm (5) (0.0026 in.)
14.8 m3 (525 ft3)
n/a
n/a
0.095 mm (2) (0.0037 in.)
VOLUMETRIC ACCURACY (4)
3.80 m3 (135 ft3)
0.075 mm (2) (0.0029 in.)
0.080 mm (5) (0.0031 in.)
0.090 mm (5) (0.0035 in.)
7.80 m3 (275 ft3)
n/a
0.085 mm (2) (0.0033 in.)
0.095 mm (5) (0.0038 in.)
14.8 m3 (525 ft3)
n/a
n/a
0.170 mm (2) (0.0067 in.)
MEASUREMENT SPEED
30 Hz
WEIGHT
5,5 kg (12 lbs.)
DIMENSIONS
1089 x 174 x 119 mm (43 x 6.9 x 4.7 in.)
OPERATING TEMPERATURE RANGE
15–40 oC (59-104 oF)
OPERATING HUMIDITY RANGE (NON CONDENSING)
10–90 %
CERTIFICATIONS
EN 301 489-1, EN 301 489-3, EN 300 220-1
(1) Volumetric accuracy using dynamic referencing mode and a 500 mm artefact.
(2) Each system tested according test methods given in the ASME B89.4.22 standard.
(3)Single point repeatability: The probe of the HandyPROBE is located within a conical socket. Individual points are measured from multiple approach directions.
(4) Volumetric accuracy: Performance is assessed by measuring traceable length artifacts in different locations and with different orientations within the working volume of the HandyPROBE (maximum range / 2).
(5) Typical value.